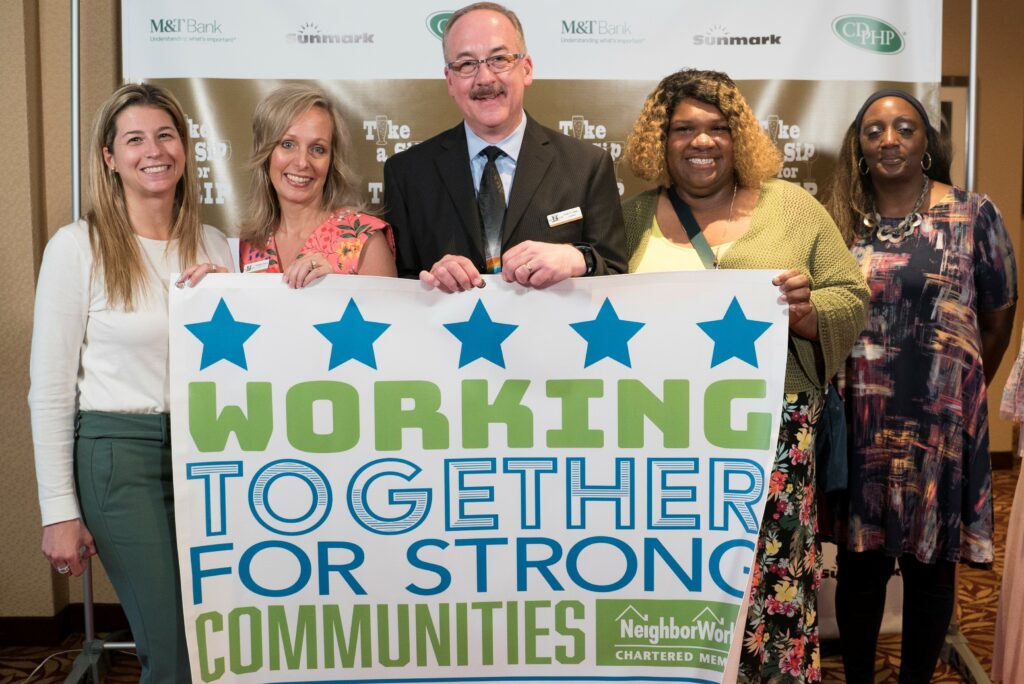 Join Us!
TRIP & RCHR events always center around our mission to build strong community. Contact, Tammy Weinman, Organiational Advancement Manager, at 518.272.8289 x 229 or Tammy@triponline.org for more information on getting involved.
TRIP & RCHR Celebrate Strong Community
Partner with us as we celebrate strong community by honoring influential housing and community development leaders on Monday, November 15, 2021 at new rooftop venue at the Hedley Building – Loft 433 in Troy from 5:30-7:30PM. Sponsorships are still available!
Senior Staff Attorney Kirsten Keefe of the Empire Justice Center will be recognized for anchoring the Homeowner Protection Program (HOPP). The HomeSave Network coalition is funded and supported through HOPP and ensures homeowners connect with qualified mortgage-assistance relief across New York State. Kirsten Keefe's continued dedication and guidance has secured these programs and services for the last 12 years.
Deacon Jerry and Elvira Ford will also be celebrated for their determination; first launching their own wealth building journey as homeowners, and then Team H.E.R.O – Helping Everyone Recognize Opportunities". Team H.E.R.O. supports black and brown youth to fully realize their potential. The power of "I see you, I hear you, I care about you, is one of the most essential blocks in building strong community"
Your investment will not only ensure housing and community stability but celebrates our partners and leaders who Build Strong Community. Click Here for Sponsorship & Tickets: TRIP & RCHR's Annual Celebration of Strong Community Tickets in Troy, NY, United States (ticketleap.com)
Take A Sip for TRIP 2021!
Take a Sip for TRIP, our annual spring fundraiser will again be virtual. There will be cocktail demonstrations, entertainment, raffles, virtual wine and spirit pull. Want to "Sip" with friends outdoors and/or support your favorite local business? More details to follow!Purchase tickets here:
https://take-a-sip-fortrip.ticketleap.com/Our virtual ticket price is $25 and comes with one raffle ticket, for $50 you also get a raffle ticket AND a special, celebratory Sip cocktail!
Save The Date:
TNAC Meet the Candidates
Lansingburgh Strong Community Update
Community Leadership Institute
Sponsorship Opportunities:
Celebration of Strong Community
Lansingburgh STRONG
Host an Event:
Neighborhood Meeting